Website Design & Hosting Services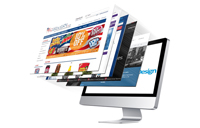 Get your business up to speed with a new or updated web site. Customers expect to find you online, and when they can't, they go to your competitor, the one that does have a website! Let us build your business a great-looking custom designed website so you can stop letting potential customers slip through the cracks.
We work with you to design a site that will fit your needs - whether you need a simple web presence, a large e-commerce site, or a fresh look for your existing website. In addition, to creating your website, we can also manage all of the hosting details for you as well and optimize your site so your new website has the best chances of ranking highly in the search engines. We always beat the price of our competitors. Contact us to see samples of our web designs
Visit our Hosting page to start acquiring your own domain
www.kcompunetllc.com
or
email us
Why Choose Us
K-CompuNet, LLC has the experience to get your job done and done right. Our customers are our referrals and if you ever need to speak with a past client, please let us know.

contact us now