Who We Are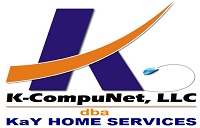 K-CompuNet, LLC is a small IT business providing support for Home and Small businesses, we are CompTia Certified and have worked as a contractor for the government and so we know what security means. We have vast experience in Support, Installation, Repairs, Designing and Hosting Wesites for the past 20 years and counting. We have been a Contractor for some Onsite and Offsite support service providers serving Home and Small businesses in Virginia, DC and Maryland.
From working as an IT person, we realized how many people needed assistance in getting things assembled, replaced and installed in their homes and small businesses. We then started a DBA named KaY Home Services to take care of such services for our many customers.
We are located in Fredericksburg, VA and provide Onsite and Offsite services for homes and small businesses in the VA/DC/MD area. We are Certified Professionals in what we do. We have joined hands with other professionals who have also been in their prospective fields and with more than 15 years experience to provide most home services like TV Mounting and Installations, Security Camera Installations, just to name a few. Our Services and Gallery pages displays some of the jobs we have done for our satisfied clients. All gallery images are from services we have provided for clients.
Visit our Services page or contact us with your choice of project and we are here to advice or provide you a service that is competitive to many service providers in the region.
our services
Why Choose Us
K-CompuNet, LLC has the experience to get your job done and done right. Our customers are our referrals and if you ever need to speak with a past client, please let us know.