Security Camera Installation Services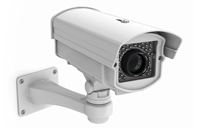 Hire a professional to install security cameras for you. K-CompuNet, LLC has professional technicians who will set up your surveillance system, run all cables from the cameras to DVR, make all low voltage electrical and video connections and make sure that the cameras are aimed, focused and adjusted properly.
Due to the variables of the security camera installation the labor price will be determined during the activation process. Additional parts may be required to complete the installation as specified. Necessary accessories and extension cables may need to be purchased. There are certain installation conditions and circumstances that will require an on-site quote from the installer.
Why Choose Us
K-CompuNet, LLC has the experience to get your job done and done right. Our customers are our referrals and if you ever need to speak with a past client, please let us know.

contact us now