Chandelier Installation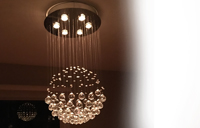 Do I Need a Chandelier Installed?
Installing a chandelier involves structural and electrical connections, and may require special handling to assemble and place your fixture. Chandeliers that are especially heavy or that will be installed on very high ceilings can be difficult to maneuver safely, and installation sites that are not equipped for a new or heavy light fixture may need structural or wiring upgrades. A qualified electrical or lighting contractor has the skills and equipment to install your chandelier safely and efficiently to protect its condition and ensure proper operation.
What are the Benefits of a Chandelier Installation?
Adding or replacing a chandelier in your home can make important changes to your décor and can improve lighting in a number of applications. Since your chandelier may be the focal point of a room or foyer, proper installation is essential to its appearance and function. Hiring a professional to install your chandelier minimizes the risk of damage to the fixture and your home and ensures that mounting and electrical connections are made safely and securely.
How Large a Chandelier Do I Need Installed?
The size of your chandelier should be based on the size and height of its intended location, as well as on its specific application. Your designer, contractor, or lighting consultant can help you select a fixture that will adequately light its space and be in correct scale for the room and furnishings.
What Type of Chandelier Installations Exist?
Chandeliers are available in a number of forms, from simple drums to creative beaded styles, elegant glass and crystal pieces, inviting candelabras, and intricate metal designs. Regardless of your fixture's style, most chandelier installations are similar, but the size and weight of the unit, the height of the ceiling at the installation site, and the condition of wiring will determine what skills, equipment, and materials will be needed for the job. Also, fitting a chandelier lift system with your fixture will add steps to the installation process, but greatly simplify cleaning and maintenance in the future.
How Long Does it Take to Install a Chandelier?
Replacing a chandelier with a new model may take only a few hours, depending on assembly requirements and the accessibility of the installation site. The time needed to place a new chandelier will vary with the condition of wiring and mounting structure, but may take an entire day, since completing upgrades may require several hours.
What Materials are Needed for a Chandelier Installation?
Your contractor may use a ladder, staging, or a mechanical lift to access the installation site of your chandelier, and will use a variety of tools to make structural and electrical connections, such as a drill, wrenches, pliers, wire cutters, and screwdrivers. If structural improvements are needed to support the weight of your fixture, brackets and junction boxes may be installed or upgraded, while wire, breakers, and switches may be needed for electrical improvements.
Do Chandelier Installations Have Any Hidden Charges?
The accessibility of your installation site and the weight of your chandelier may increase installation rates, since special equipment and extra manpower is generally needed to reach high ceilings and maneuver large, heavy fixtures. Further, fitting decorative ceiling medallions may come at an extra cost, and painting medallions or making repairs to drywall may require the services of an additional contractor.
How Much Does a Chandelier Installation Cost?
With the condition of an installation site influencing the scope of the project, prices for installing chandeliers range between $131 and $316, nationally. A number of factors such as location, fixture size, and wiring conditions, along with your contractor's evaluation can help you plan and budget for the project.
Why Choose Us
K-CompuNet, LLC has the experience to get your job done and done right. Our customers are our referrals and if you ever need to speak with a past client, please let us know.

contact us now